Rail Clamp
The Role of Rail Clamp in Rail Fastening System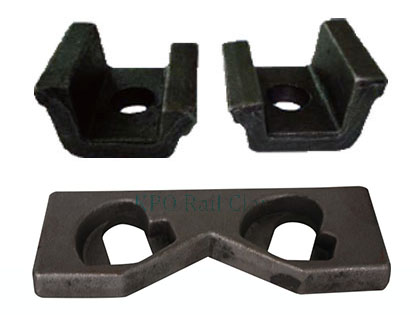 KPO Rail Clamp
Railroad clamps, other names are rail clip or rail fixing clip, is kind of device to be fixed on tracks to prevent the train from moving or passing a given point to the ground (as at platforms or on stub tracks) to avoid accidents. Rail clamps have basic features of boltable, self-locking, adjustable with fine tolerance and high clip strength.
Railroad rail fasteners are parts of the rails used to join rails and sleepers (or other types of rail underlays), also known as intermediate link part. Its function is to fix the rail on the sleeper, maintain the gauge and prevent the rail from moving longitudinally and laterally relative to the sleeper. Railroad rail fastening system is divided into: shrapnel fastener system, Clamp(buckle) fastener system, elastic fastener system.
Rail Clamps Supplied by AGICO
Name
Rail Clamp
Type
Customized
Assemblies
base plate, cover plate, t bolt, nut, washer
Material
base plate and cover plate: ductile cast iron, cast steel
bolt, nut, flat washer: Q235
spring washer: 60Mn, 60si2Mn
Surface
plain, black, zinc plated, HDG, etc
Usage
rail fixing device
Agcio supplies customer with wide range of railroad clamps, which has been used in railroad construction and has proved its top class and durability. Our railroad clamps is fabricated using high grade steel and designed according to parameter of industry and market demands. AGICO is able to produce according to your drawing.
Rail Clamps Types:
Crane Clamp 21/050 AN/BN:
Crane clamps enable the rails to be installed with good tolerances, with them adjustable to ensure the rails' precise alignment. Our clamps are designed to carry the heavy load which cranes pass to the rails. For installation methods, it can be bolted or welded, up to the end users' needs.
Crane clamp 22/130 AN/BN
Gantrail rail clamps of self locking is a special design to secure and fix the rails with a rubber nose. Such clamps can be used in different rail types through adjusting the height of the rubber nose.
KPO rail clamp
It is kind of boltable clip with high strength. KPO3, KPO6, KPO9 are more popular used in rail fastening systems, by combining with ribbed tie plates, rail bolts and washers.HuiBo Railway also produce and supply "K" and "MTH" type Rail Clamps as well as some Clamps for North African Railway .
Other clamps
MTH clamp, K type rail clamp, Rail Clamp for North Africa
Rail Clamp Raw Materials:
AGICO Rail Clamps are manufactured from low carbon steel Q235 and cast iron
Name
Rail Clamps
Material
Q235-forging
ZG35-cast steel
QT500-7-cast iron
Chemical composition(%)
C:0.12-0.20, Mn:0.30-0.70, Si:≤0.3, P:≤0.045, S:≤0.045
C: ≤0.4, Mn:≤0.9, Si: ≤0.5, P:≤0.04, S:≤0.04
C:3.60-3.80, Mn:≤0.6, Si:2.50-2.90, P:≤0.08, S:≤0.025
Rail Clamp Application History
Clamp fastener system is a kind of rail fastener system. It belongs to rigid fastener. At present, there are several types of rail clamps, the fasteners used in China's concrete sleeper are not separated, except for the early development of the bolt buckle plate type, 63 and 70 Clamp fastener system are rigid fasteners, the others are elastic fasteners.
At the time, there was no sulfur anchoring technology. Only the wooden bolster was embedded in the concrete pillow and the bolted spike was screwed in to connect the fastener with the sleeper. The type 70 buckle is a shoulder type and is suitable for rails of 50 and 43 kg/m. The rail can be adjusted by pressing the rail with a buckle plate and changing the number of the buckle. The connection between the spiral spike and the sleeper is in the form of a sulfur anchor.
Rail Clamp Quality
AGICO Rail Clamps production focuses on quality control and management. Our rail clamps production is controlled in full accordance with the ISO9001-2008 quality system. AGICO has obtained the railway product production license from the Ministry of Railways of China. We have a full range of testing equipment to ensure the quality of all our buckle fastener products and meet our customers' requirements.
Get In touch Now!
We receive enquiries in English, Español (Spanish), Русский язык (Russian), Français (French) and العربية (Arabic). Our professional team will reply to you within one business day. Please feel free to contact us!