Project
460 set RS 80a rail fish plates export to Malaysia
Great news, AGICO supplied 460 set of railroad fish plate and bolts to a Malaysia customer, which will be used in a local railway project. We have produced rail fishplate and fish bolt and nut product customized for this special order. What...
Read More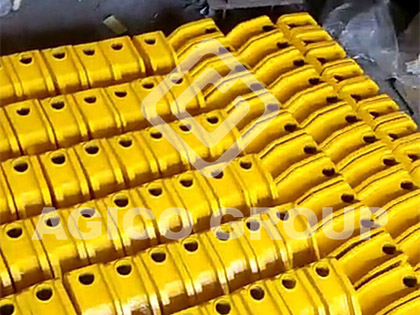 Singapore order of rail clamp for uic60 fishplate
Rail Clamps and Fishplate Package On December 15th, a batch of Rail Clamp and UIC60 Fishplate was completed and delivered to Singapore, these products will be used for replacement of old rail clamp and fishplates in railway line, since this...
Read More
Customized fishplate and rail clamp
Thailand Fishplate Order Details: In March of 2018, AGICO received a ergent order for metra railway line, railway products include: rail clamping devices and T type UIC60 rail fish plates of Thermit welded joints. Rail Clamp for Fishplate T...
Read More
1400 pcs UIC-60 fishplate exported to singapore
In March 2017, A railway product distributor from Singapore put a emergency order-1400 pcs fishplates for UIC60 steel rail , here are some pictures for our fishplate packaging and delivery. Two sets of railway lines have been built in Singa...
Read More
10 containers rail joint bar Export to Canada
Canadian Distributor have 10*20' containers of Fishplate ordered from AGICO, production was finished in time and all fishplates are surface marked, buddled and packaged in wooden boxes, The order was placed by an Canadian agent to ship 10...
Read More
432 pails of dog spikes production
432 pails of dog spikes production has been completed and packaged in pails as to America Customers requirements, dog spike specs: 5/8*6, this batch of dog pike products are ordered by America Distributor in OCT, 2016, AGICO is able to prod...
Read More
E type clip and bolts order quantity-800 tons
800 tons of Rail clips-E type Clip is and Bolt delivered to Canada Customer from AGICO IN Oct. 2015, Customer will use these clips on mining rail track building for 500 meters long, this order include about 480 tons of rail clips and 320 to...
Read More
2000 tons steel rail and fasteners exported
Indonesia Customer ordered Steel Rail (43kg) from AGICO, this order was manufactured on time and delivered in Sept. 2016. This order was for a 100km rail line for mining, which including 2000tons rail with 1000ton fasteners. AGICO Rail has...
Read More
Get In touch Now!
We receive enquiries in English, Español (Spanish), Русский язык (Russian), Français (French) and العربية (Arabic). Our professional team will reply to you within one business day. Please feel free to contact us!