Rail Fasteners
Crane rail clips
The crane rail clip: also known as the welding type crane rail clip, the welded rail fixing device, the steel beam railing device, the welded type pressure plate, no matter what the name is, the only one is to press the fixed rail.Usually w...
Read More
Rail Plastic Dowel
Rail Plastic dowel (Rail Plastic Sleeve) Also know as plastic sleeve, plastic insert, concrete dowel, concrete insert, Nylon Dowel, PA66 Dowel, being widely used in rail fastening. It was also called rail plastic sleeve/plastic insert/concr...
Read More
Rail Nylon Insulator
What is Rail nylon insulator Rail nylon insulator is The rail nylon insulator also called insulating liner, it is used to adjust rail gauge and provide electrical insulation for the rails from the clips or shoulders and ties, installed betw...
Read More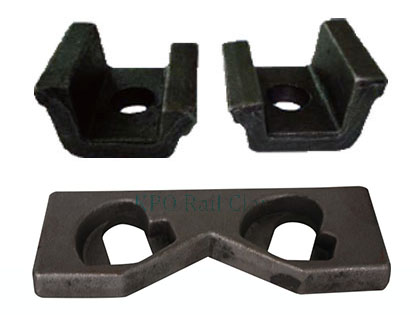 Rail Clamp
The role of rail clamp in rail fastening system Railroad clamps, other names are rail clip or rail fixing clip, is kind of device to be fixed on tracks to prevent the train from moving or passing a given point to the ground (as at platforms...
Read More
Rail Anchor
Rail Anchors Types from AGICO AGICO manufactures different types of rail anchors. The anchors are used where the fastenings system requires an extra creep resisting arrangement. There are various shapes of the anchor which is made of rolled...
Read More
Rail Shoulder
What Types of Rail Shoulder AGICO Produce The Rail shoulder is semi-embedded part cast in the concrete rail ties to fix the elastic rail clip to the base plate, There are two Common types of rail shoulders available from AGICO, Cast-in Shou...
Read More
Rail Spike
Railroad Spike Definition AGICO is manufacturing and supplying a wide range of rail screw spikes for railways. Railroad spike, also known as railway spike, track spikes, are designed with high precision and processed under mature technologi...
Read More
Get In touch Now!
We receive enquiries in English, Español (Spanish), Русский язык (Russian), Français (French) and العربية (Arabic). Our professional team will reply to you within one business day. Please feel free to contact us!