Singapore order of rail clamp for uic60 fishplate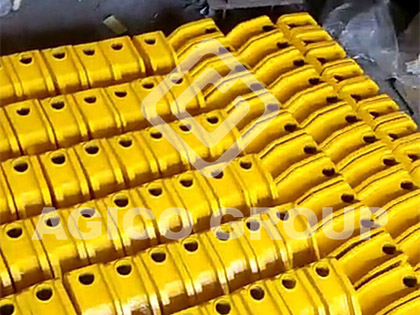 Rail Clamps and Fishplate Package
On December 15th, a batch of Rail Clamp and UIC60 Fishplate was completed and delivered to Singapore, these products will be used for replacement of old rail clamp and fishplates in railway line, since this is the first cooperation with AGICO and customer, the first order is small, and we will keep on further cooperation on large railway products. 30 Rail Clamp was packaged in one box, and railway fishplate was packaged with plastic bag and wooden box.
Rail Clamp Painting and Fishplate Before Package
Rail Clamp Introduction:
Rail clamp, also called rail clip or rail fixing clip, is a device that used to maintain the lateral position of the railway track, necessary longitudinal movement is allowed. In rail fastening system, the rail clamp secures the rail in position through mechanical lock, in the meantime, accepts the rail longitudinal rail movement through the combined vulcanized-bonded synthetic elastomeric nose. In working principle, rail clamps are always fastened onto the rail sleepers with anchors bolts.
Get In touch Now!
We receive enquiries in English, Español (Spanish), Русский язык (Russian), Français (French) and العربية (Arabic). Our professional team will reply to you within one business day. Please feel free to contact us!